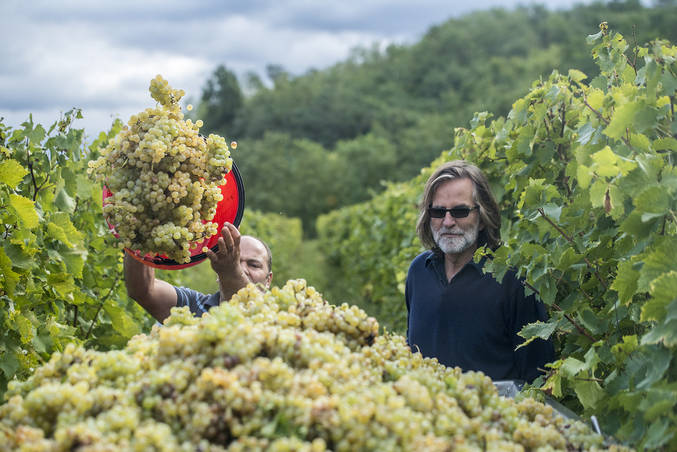 Harvest 2017
Harvest 2017 has demonstrated once again that Collio is a territory particularly ideal for the viticulture. After an early budding and a frost at the end of April that has only minory affected the valley floor vineyards of our Appelation, followed by a regular Spring and Summer weather we have started the harvest on the 22nd of August, rigorously by hand. A few days in advance comparing with the traditional start date.
As always, there has been a meticulous tasting analyze of the grapes that brought us to kick off the harvest with the Collio Sauvignon 2017 Russiz Superiore. Gradually, during the harvest of all white grapes, held with ideal climatic conditions, we realized the great quality of all the grapes, from the Pinot Grigio to the Pinot Bianco, from the Chardonnay to the Ribolla Gialla…
The harvest went on at the end of September with the red grapes, specially our Collio Merlot, and coincided with the normal drop of the temperature and the first Autumn rains. In this case, our capacities of vineyard management and the operational promptness of our harvest teams demonstrated to be determining and essential to guarantee us an excellent quality.
In October we brought to the cellar the late harvest grapes, some of them raisined grapes, like Verduzzo, Moscato Rosa and also Picolit, which shall become our Horus Russiz Superiore.
Also this year, Marco Felluga and Russiz Superiore's experience in managing the vineyard and the high perception to interpret the climatic pace, together with the Collio's  extraordinary territory, lent our productions a high level of excellence, enabling our products once again to become recognized and recognizable.